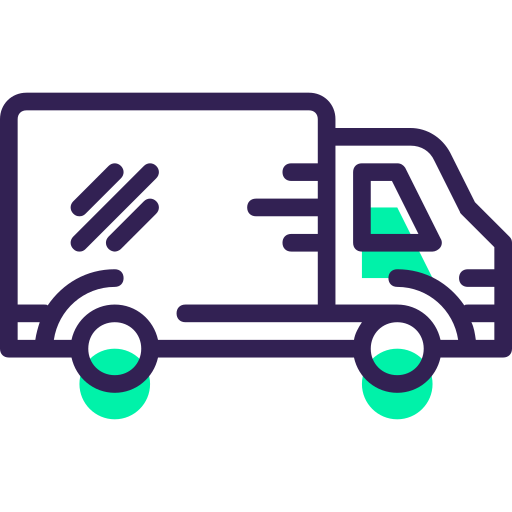 Free Shipping on orders $50+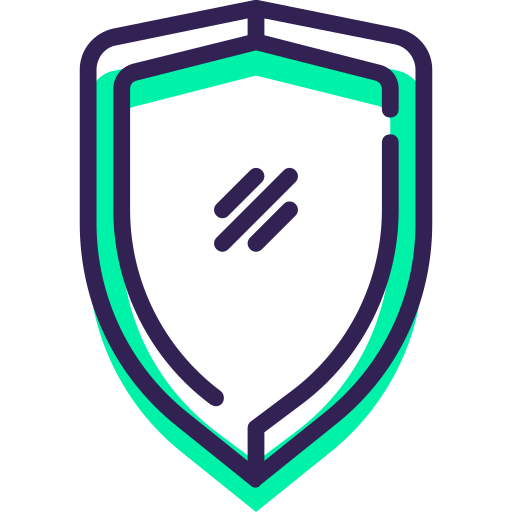 Top-notch Customer Support

If you find string flossing annoying, fiddly and painful, the Tuski Water Flosser was made for you!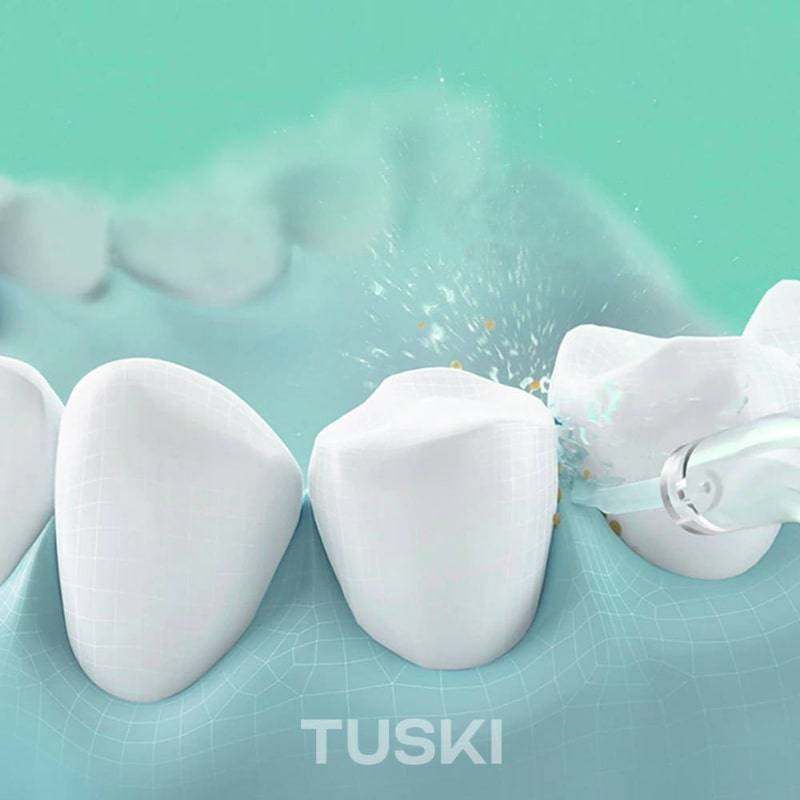 Water Flossing removes plaque from treated areas with a 30-second use. Plus, it's able to remove bacteria deep between teeth, where brushing can't reach.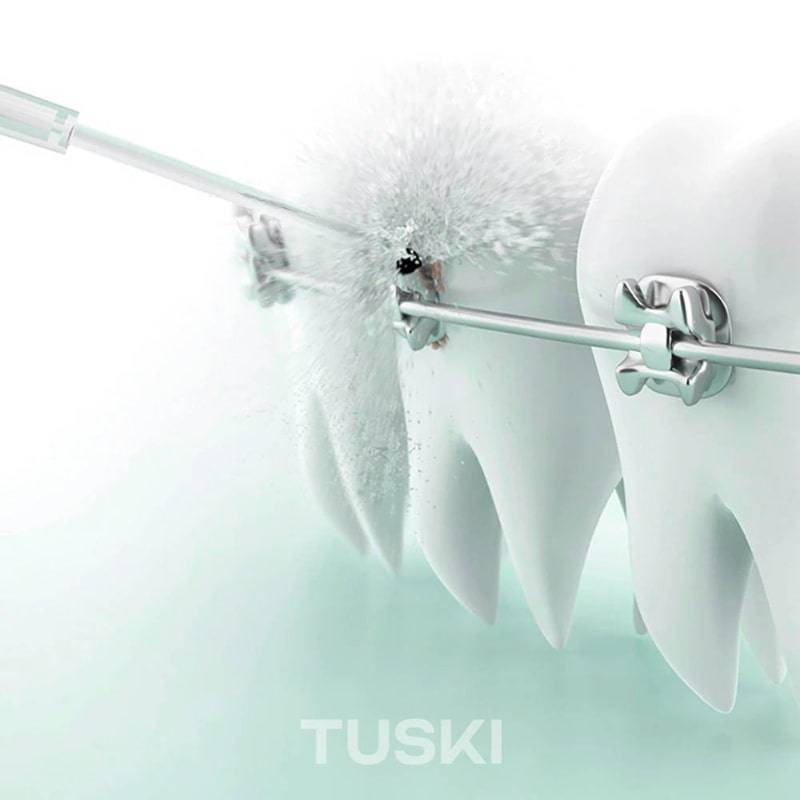 The Tuski Water Flosser is ideal for everyone and can benefit many types of oral conditions, including those with braces, implants, fillings, crowns, bridges or veneers.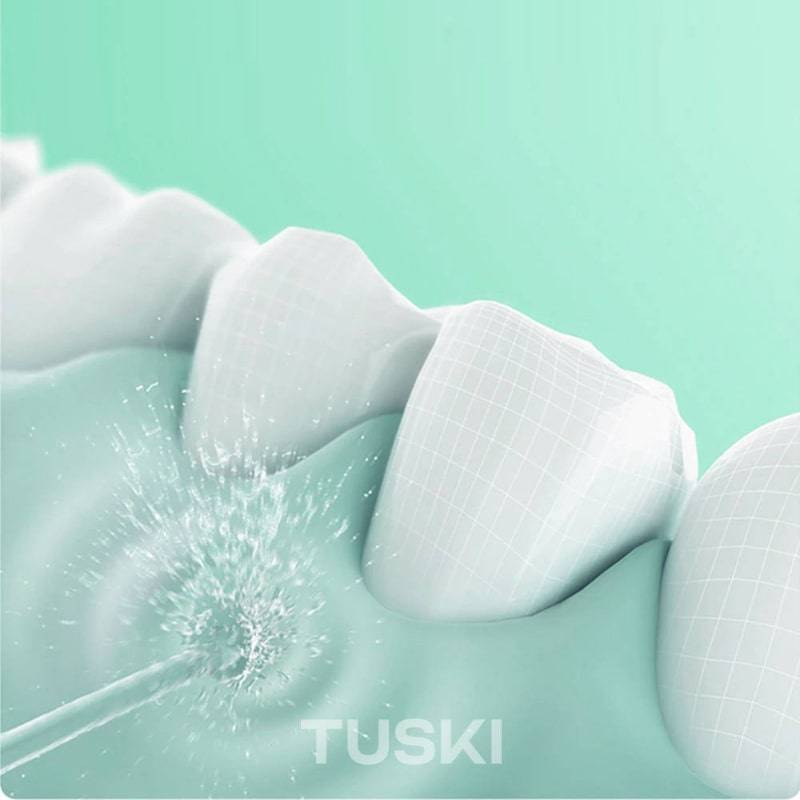 With its IPX7 waterproof rating, the Tuski Water Flosser can be safely used in the bathroom and even in the shower. It's also perfect to take with you on holiday or on travel!
Don't just take our word for it...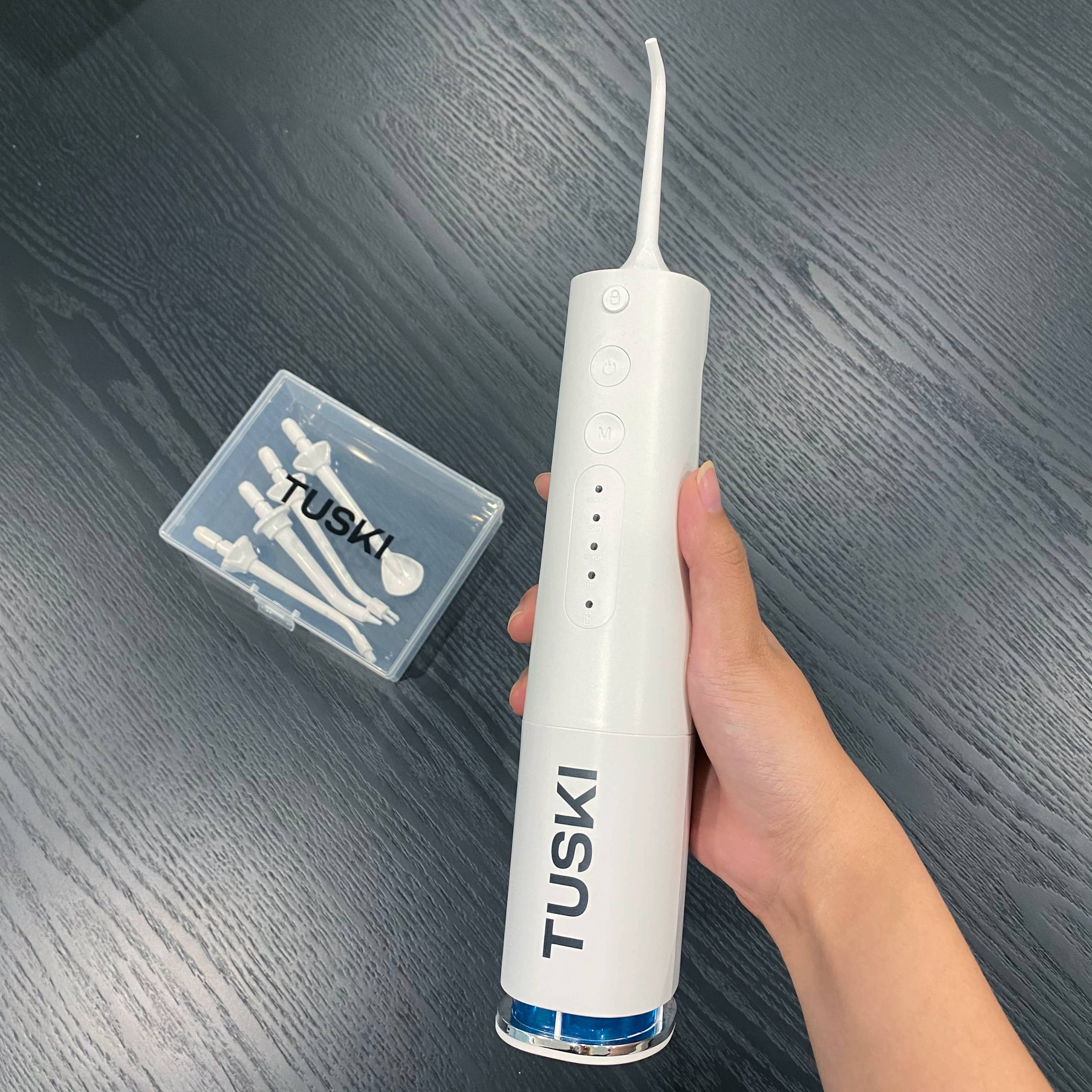 Very easy to use and helped so much with my bleeding gums. Really makes a huge difference compared to only brushing teeth.
Katie K.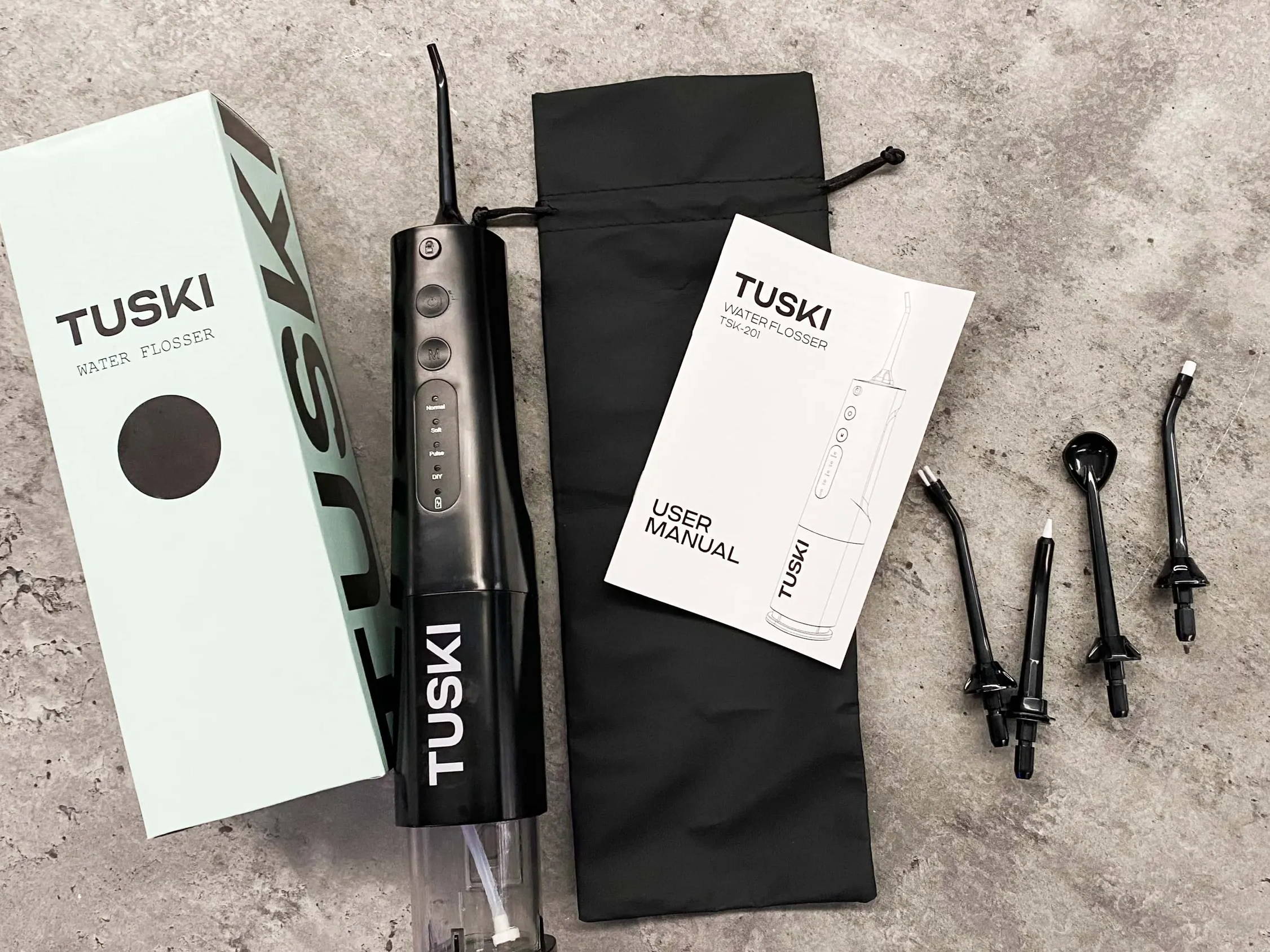 What a great product! Especially for this price. Easy to use and does an amazing job. I like to use in the shower so I don't make a mess.
Willy R.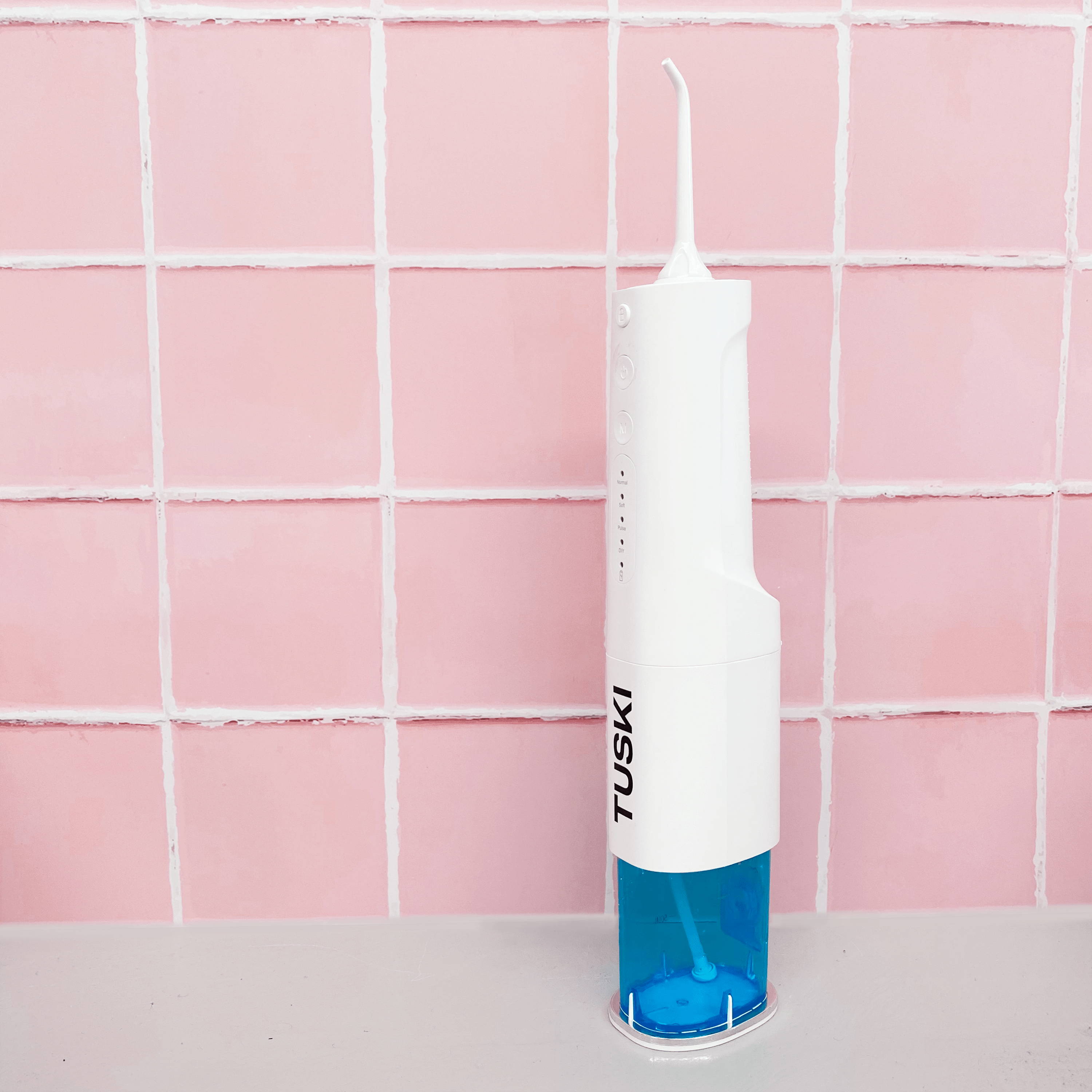 I got the Tuski water flosser for my husband and he loves it. He used to struggle with flossing regularly but he now enjoys it and really became a habit.
Amanda W.
Frequently Asked Questions
Can I use mouthwash in my water flosser?
Yes, you can use mouthwash but you must rinse the unit with clean water after each use. Do not use baking soda, salt or anything other than a mild mouthwash. We typically recommended using warm water as it's sufficient and proven to be effective.
How often should I use my water flosser?
We recommend flossing at least once a day to maintain good oral health.

Should I floss before or after brushing my teeth?
We recommend flossing before brushing your teeth. Toothpaste contains fluoride which is good for your oral health. If you water floss after brushing, you will also rinse away the benefits of all the goodies added to toothpaste to protect your teeth and gums.
Can people with sensitive teeth use a water flosser?
There may be a little discomfort when you first begin using a water flosser, particularly if you haven't flossed recently. If you're new to using a water flosser we recommend starting on the lowest pressure setting and slowly increasing over time as you become more comfortable.
Can children use a water flosser?
We recommend only for ages 18+.
How do I use the flosser without getting wet?
There are two simple tips to keep you dry while using a water flosser:
1. Lean forward over the basin.
2. Ensure your mouth is slightly ajar when flossing to allow the water to run out into the basin.
Can I floss if my gums are bleeding?

It's not unusual for your gums to bleed slightly when using a water flosser the first time, don't panic! Keep the unit on the lowest pressure and increase over time to a comfortable level. If bleeding does not subside after using your flosser regularly, see a dentist or dental hygienist as this may be indicative of something more serious.
Does water flossing replace brushing?

No. Water flossing is for cleaning between the teeth and around the gum line. It does not clean the surface of your teeth and brushing twice daily is still required to maintain good oral hygiene.

How often do I need to replace my tips?

Every 3 – 6 months is preferred, depending on how often you use your flosser. It is important not to share tips but you can all use the same flosser. You may purchase additional tips here.
How do I charge my Tuski Water Flosser?

Simply use the USB charging cable provided with your Tuski Water Flosser.
How long does shipping take?

Shipping currently takes 2 weeks.
We don't currently offer international shipping but stay tuned as we plan to in the future.
How much does shipping cost?

Shipping is currently FREE.